Thursday, May 29th, 2008
A while ago I took some wonderful classes with collage artist Mary Jo McGraw. I've not taken many classes, I'm pretty much self taught but I learned alot from her and had a great time "playing" with other artists. Take a class sometime, even if you've been doing your art for a long time, you can always learn something new and get inspired by other people and their work, you'll be glad you did.
One of the class I took with her was working with beeswax, we took copies of photos, pages from old magazine, etc and dipped them in beeswax. And adhered them to cardstock and added stamping and other embellishments like mica and buttons.
Here are some of the pieces that I made:
Geisha: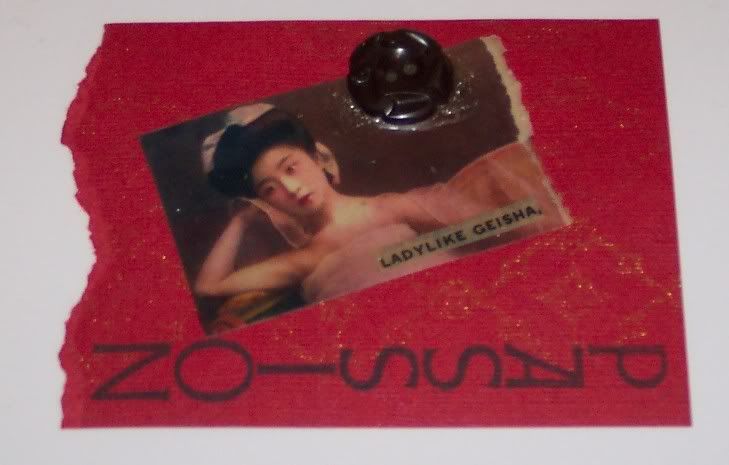 Vincent Price (I love him:)) I re-melted the wax with a heat gun and pushed buttons and mica flakes into the hot wax to adhere them:

Victorian Woman, the buttons were dipped into alcohol inks before being added to hot wax:

Victorian Girl:

And another Geisha, I poured wax onto the piece and then stamped into it with a rubber stamp , after it cooled I rubbed pearl ex onto the wax:

So, you may be asking how is the heck do you do this?:) This is the easiest way I've found to use beeswax. I bought a small inexpensive mini crockpot just for my beeswax (once you use it for wax you can NOT cook food in it, so keep this in mind). I bought the small beeswax pellets at Michael's craft store, they are in the candle making section. You can use the large chunks of wax too put the pellets melt faster and are easier to work with. So just turn on the crock pot, pour in some pellets, filing it up about half way and let them melt, this can take quite a long time, be patient:) When everything is melted you can then dip your items into the wax, be sure to use tweezers or small tongs as the wax is VERY hot. Be sure to dip quickly and pull your item out fast, if it sits in the wax too long it will not be very clear and you might not be able to see your image underneath. The wax dries very quickly so you can lay your piece down almost immediately after dipping. When you are done turn off the pot and let the wax cool inside and harden, when you are ready to use it again just turn on the pot and let the wax remelt.