Saturday, November 29th, 2008
I've started to cut my pieces of glass for my collage jewelry into smaller pieces and stringing two tiny collages onto one chain. I really like the look and the challenge of making teeny tiny collages is alot of fun!
This first piece features a very unhappy looking young man in a big pink party hat along with another charm that says "laugh". I used my new scalloped edge tape on the charm with the boy. The words and background are all vintage papers.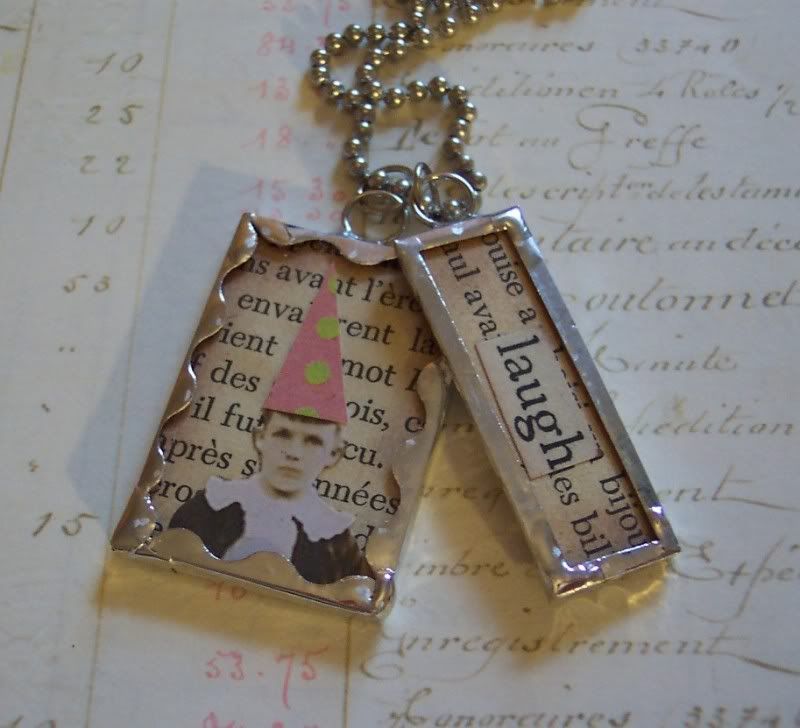 This next one is two tiny 1″x1″ collages of fairy sisters with vintage French paper backgrounds and words that say "Flutter" and "Fly". I added a string of pretty purple and blue beads to the top of one of the charms so when they hang you'll be able to see both fairies.
I've mentioned this before but recently I've gotten alot of questions about where I get my vintage papers. I get almost all my vintage papers at used book shops, luckily my local area has some really nice ones. You can find music sheets, old children's books, foreign language books and lots more with just a little bit of hunting. If you have a used book store go check them out, you'll be amazed at all the cool stuff you'll find! And maybe pick up a good old novel to read while you're there:)