Posts Tagged 'pin'
Sunday, February 3rd, 2013
Here's a collection of cute new wooden brooches with vintage book illustrations.
Available in my Etsy shop.
Wednesday, January 16th, 2013
Folk Magazine is having 15 days of giveaways and one of the prizes is one of my felt owl face brooches. Visit their Facebook page and then find and share my image on FB to be entered.
Heather
Tuesday, June 9th, 2009
Several years ago before I taught myself how to solder I used to make alot of jewelry with dominos, so I thought I'd try them again. Dominos are fun to work with but it's important to remember that not all mediums will "stick" to the slick surface of a domino, some people soak them in bleach and/or sand them to give them a "tooth" to help mediums stick better but I guess I'm too lazy for that
and have never found a need to do it. I try to use permanent inks and markers such as Staz-On ink pads and Sharpie markers. Chalk ink pads work well too but need to be heat set (with a heat gun) to be more permanent. Dominos are inexpensive so it's nice to play and experiment with them to find out what works well and what doesn't. I also like to seal mine just to make sure all my hard work will stay for a long time since it's something that will be used and worn. A clear spray sealant works well or any type of clear dimensional liquid (like Liquid Glass, Dimensional Magic, Crystal Lacquer, etc) works nicely too, they will give a nice shiny look over your artwork. Using permanent mediums also helps when you go to seal your domino because they will not react and possibly bleed when you apply the sealant.
Here are a few pins made with Alice in Wonderland characters, I added alphabet beads along the domino edges and large pin backs on the back of each.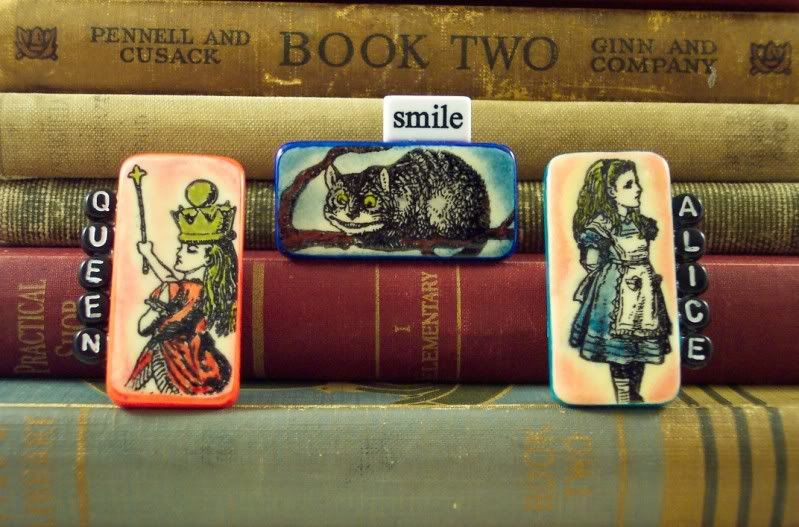 Also here's a few more art cards using small bingo cards and those same fun black alphabet beads. This time I made them with Alice, the White Rabbit and Alice dressed as the Red Queen.